STRUKTUR NILAI LOKALITAS PAPAREGAN MADURA SEBUAH ALTERNATIF BUDAYA UNTUK SISWA SEKOLAH DASAR
STRUKTUR NILAI LOKALITAS PAPAREGAN MADURA SEBUAH ALTERNATIF BUDAYA UNTUK SISWA SEKOLAH DASAR
Sama' Sama'

STKIP PGRI Sumenep

Debrine Stefany

STKIP PGRI Sumenep
Abstract
Madurese people maintain the language and culture of Madura which serves as a symbol of pride, identity and as a means of communication. Madurese language as an oral discourse has a wide coverage area, on the other hand written literature and oral literature. Generally, the contents of paparegan in Sumenep Madura are merely biological but they contain clear values ​​in them. Based on the formulation of the problem, the purpose of this study refers to the description of the paparegan structure used in the District of Bluto. Structure is the relationship between the constituent elements in the overall arrangement. Structural theory addresses two problems, namely ethical and aesthetic problems. The approach used is a qualitative approach. Data collection techniques are carried out in triangulation (combined), data analysis is inductive, and the results of qualitative research emphasize structure rather than assumptions. This study sought to obtain empirical data and conduct a study of paparegan structures in Bluto District. Sumenep. The findings in the field stated that there were 3 forms of paparegan that were preserved, namely Karmina, Talibun and Saloka. Karmina is called paparegan (pantun) lightning because it only consists of 2 rows that render a-a. Talibun is a long type of paparegan with a very abundant number of rows. As for Saloka is paparegan which consists of a number of concurrent stanzas - connected if they are written, muted. Elementary School Students should properly study Paparegan culture which is rich in Madurese locality values ​​for future educational purposes.
Downloads
Download data is not yet available.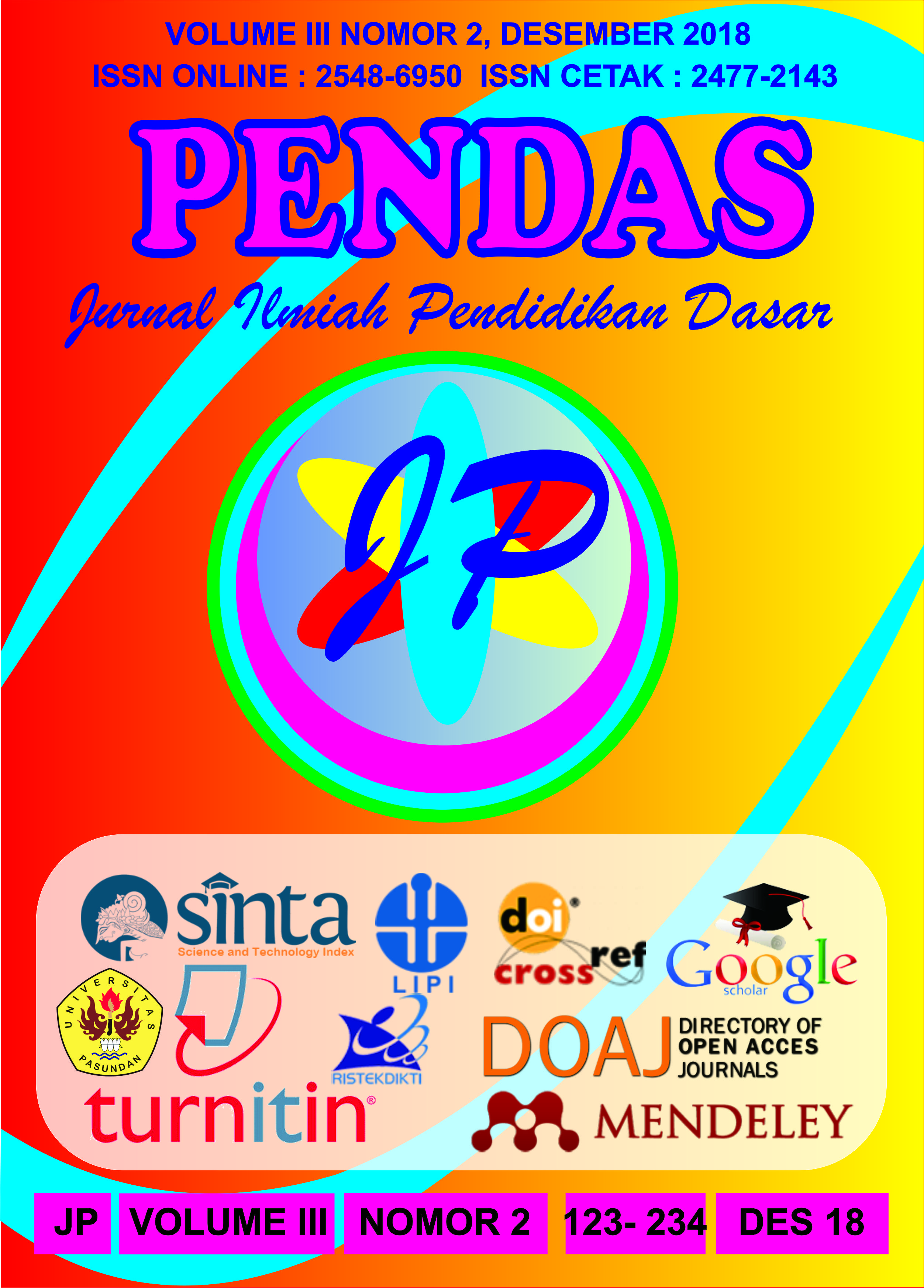 How to Cite
SAMA', Sama'; STEFANY, Debrine. STRUKTUR NILAI LOKALITAS PAPAREGAN MADURA SEBUAH ALTERNATIF BUDAYA UNTUK SISWA SEKOLAH DASAR.
Pendas : Jurnal Ilmiah Pendidikan Dasar
, [S.l.], v. 3, n. 2, p. 168 - 177, feb. 2019. ISSN 2548-6950. Available at: <
http://journal.unpas.ac.id/index.php/pendas/article/view/1132
>. Date accessed: 22 oct. 2019.
This work is licensed under a Creative Commons Attribution 4.0 International License.