IDENTIFICATION AND INHIBITION OF BIOACTIVE COMPOUNDS FROM NUTMEG ( Myristica fragrans Houtt ) AND THE APPLICATION AS ANTIBACTERIAL AGENT
Dede Zaenal Arief

Universitas Pasundan

Hervelly Velly

Universitas Pasundan
Abstract
The purpose of this research is to determine the most effective of nutmeg meat products to inhibit the specific spoilage bacteria based on inhibitory zone and determine the power of antibacterial compounds in nutmeg meat to  inhibit and kill specific spoilage bacteria  based on the number of growth  of spoilage bacteria. This research consists of two stages: The purpose of first stage is to determine  the most effective of nutmeg meat products as an antimicrobial agent to inhibit gram-positive and gram-negative bacteria with inhibition test response. The second stage of the main research continued from  preliminary research that consists of three steps. The purpose of first step is to determine  the best long immersion antimicrobial substances against bacteria growth in fresh meat for 0 minute, 5 minutes, 10 minutes, 15 minutes and 20 minutes. The purpose of second step is to determine the correlation between the concentration of antimicrobial agent 5%, 10%, 15%, 20% and 25% of the microbial growth number in fresh meat stored within 5 days. The analysis was performed using total plate count method. The purpose of third  step is to determine the level of concentration that is acceptable to consumers. Based on the results of research was obtained that the nutmeg meat essential oil can inhibit the growth of gram positive and negative bacteria. If concentration of antimicrobial substances are higher, so that the power of inhibit to against spoilage bacteria  in fresh meat is higher. The selected concentration by organoleptic test that acceptable by consumers is 10%.
Downloads
Download data is not yet available.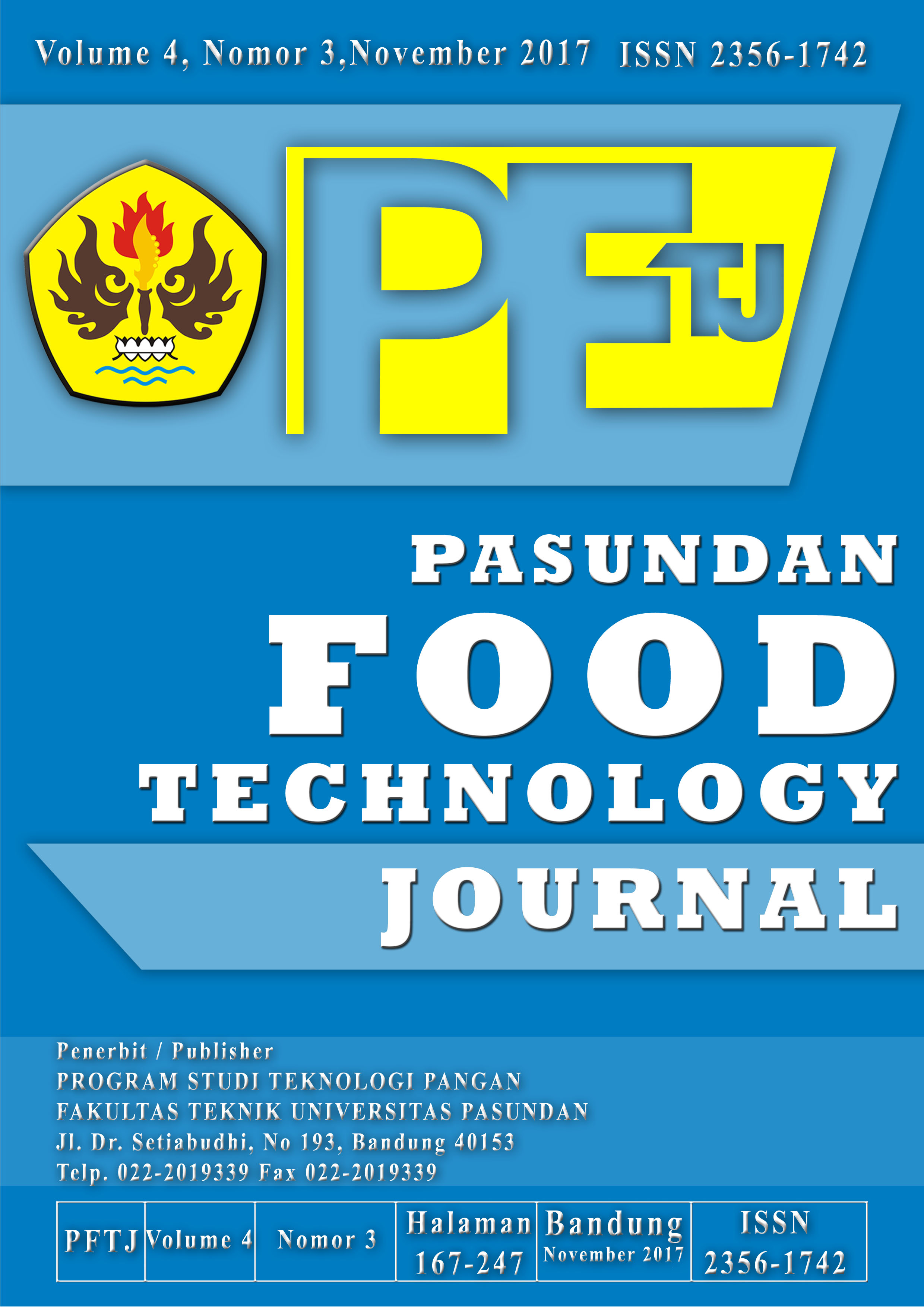 How to Cite
ARIEF, Dede Zaenal; VELLY, Hervelly. IDENTIFICATION AND INHIBITION OF BIOACTIVE COMPOUNDS FROM NUTMEG ( Myristica fragrans Houtt ) AND THE APPLICATION AS ANTIBACTERIAL AGENT.
Pasundan Food Technology Journal
, [S.l.], v. 4, n. 3, p. 191-196, jan. 2018. ISSN 2356-1742. Available at: <
http://journal.unpas.ac.id/index.php/foodtechnology/article/view/647
>. Date accessed: 24 jan. 2018.